An interesting post from Philipp Keller on Tag history and gartners hype cycles from back in May of this year which I missed first time around. Now part of me thinks it must be possible to plot just about anything on the Gartner Hype Cycle, but it can be a useful tool for provoking reflection and discussion.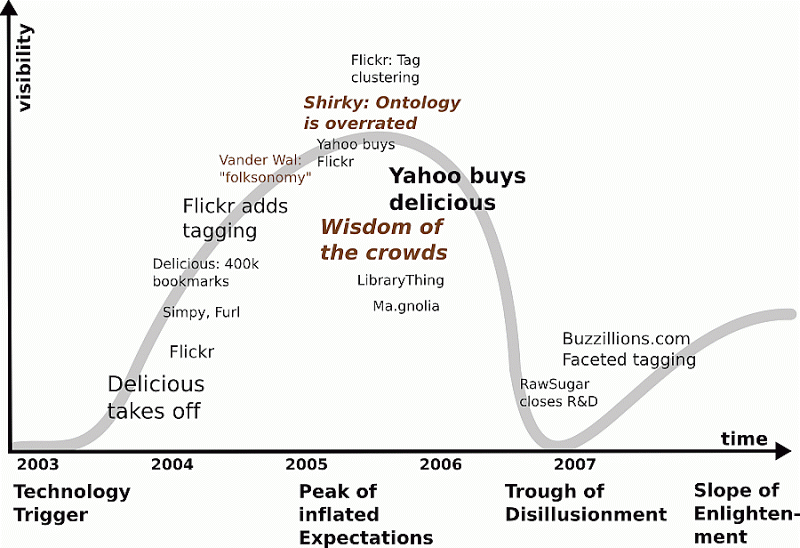 Note how Philipp indicates that we now find ourselves in the Trough of Disillusionment in 2007. Gartner define this stage in the cycle thus:
Technologies enter the "trough of disillusionment" because they fail to meet expectations and quickly become unfashionable. Consequently, the press usually abandons the topic and the technology.
I'm not sure that this is where we are. Phillipp suggests that:
There are no blog posts any more. Tagging is not really unfashionable but the topic is "done" à la "if that's all what's tagging adds to the web experience, I'm not interested in this technology any more". There isn't much thinking and innovation going on.
I half agree. I agree that tagging is not unfashionable, but that people aren't blogging about it to the same degree. But I can't help wondering if we haven't already reached the Plateau of Productivity - the last stage in the Gartner curve and absent from Phillipp's diagram. Surely del.icio.us and Flickr can be considered mainstream and accepted? Did we go through a Trough of Disillusionment already? Or does the Gartner curve not really apply in this instance?